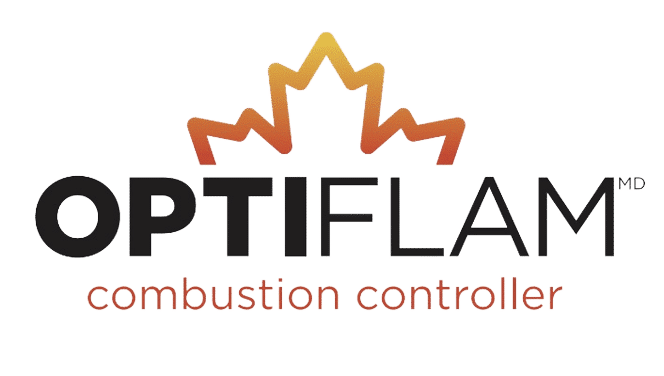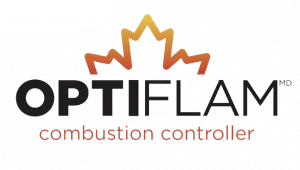 FOR OPTIMAL EFFICIENCY
& MINIMAL WOOD CONSUMPTION
OPTIFLAM is an automated system for supporting the thermodynamic properties of the evaporator combustion chamber to optimize heat using a minimum amount of fuel.
•Measures various operating conditions to determine the best evaporator operating conditions.
•Adjusts fan speed continuously to maintain the temperature set by the operator.
BENEFITS
•The OPTIFLAM provides automated operation of your evaporator in order to maintain optimal and constant heat without any need for assistance on your part.
•The operator's only involvement is puttin wood into the combustion chamber when indicated on the display.
•This minimizes flow interruptions and improves syrup quality.
•Allows control over the amount of fuel used.
OPTIFLAM combustion controller option for easier operation, performance and increased savings.
 Integrates with Lapierre Forced air-wood fired evaporator on existing or brand new devices.
3 OPERATING MODES

 
AUTOMATIC MODE
OPTIFLAM takes care of the evaporator. Adjusts fan speeds, gives wood reload warning, monitors combustion and stops fan operation at the end of production.
MANUEL MODE : 
The operator controls the fan speed directly, as with a standard Hurricane, but from the control screen.
MECHANICAL MODE: 
The operator controls the fan speed directly, as with a standard Hurricane, using rheostats, but from the control box.
TOUCH SCREEN DISPLAY
OPTIFLAM is equipped with an easy-to-use 7.5 inch (19.5 cm) touch screen to access the various functions of the combustion manager.
Combustion statistics on the evaporator combustion settings are compiled and displayed on the screen:
•The operating time.
•The average temperature maintained.
•The time between reloads
•The time required to recharge.
•Temperature set by the operator.