LONGEVITY AND AGILITY
MASTERY OF WATER
MECHANICAL EXTRACTOR – November Only
Until November 30, 2020
The simplicity of operation of these single mechanical extractors makes them economical and reliable. When the sap level pushes the float up, the vacuum is cut from the belly and the sap is released.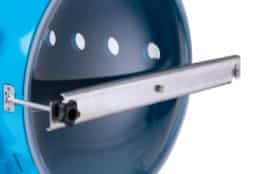 NEW LATCHES


FOR OPTIMAL SEALING
Standard on 12 and 20 inch horizontal extractors
ELECTRIC EXTRACTOR WITH INTERNAL PUMP
UP to $350 USD discount
With or w/o automatic self-cleaning sprinkler
Until December 21, 2020
Available with one or two pumps* (internal inde­pendent) this extractor is the ultimate in continuous vacuum because it never releases its vacuum.
SPÉCIFICATIONS
Stainless steel frames, clips and fasteners;
Standardized parts that fit on all our extractors;
Easier than ever to take apart for cleaning and lubricating;
All parts are CNC machined in house for a perfect fit every time;
Manifold inlet sizes and position can be customized upon request