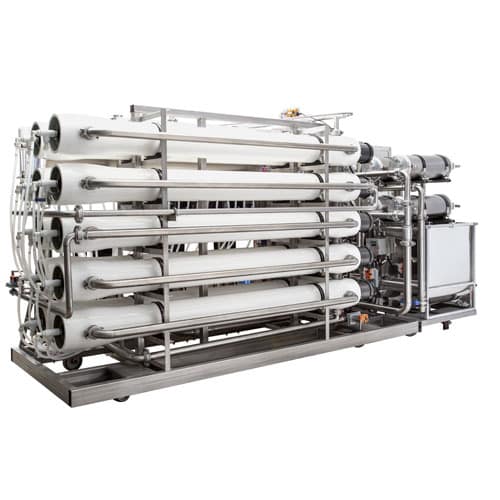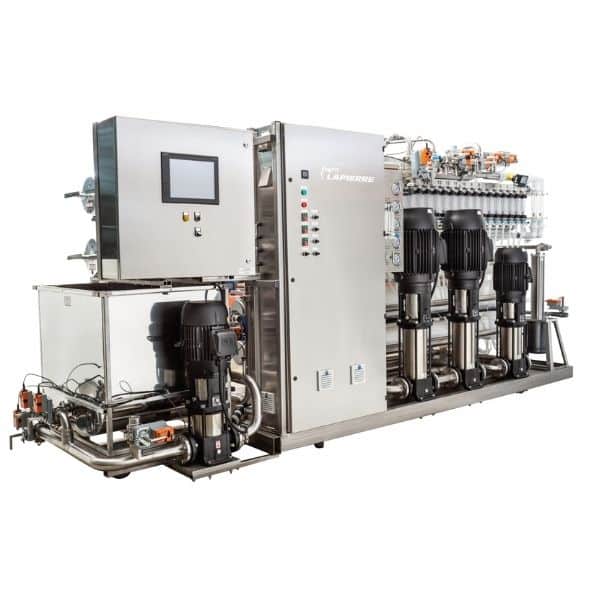 OUR INDUSTRIAL GRADE R.O.
TOUGHER FOR BETTER PERFORMANCE !
Lapierre is proud to present the very first industrial grade R.O. developed with ingenuity and optimized for large-scale maple syrup operations. Unparalleled in durability and operating flexibility, the 10K Series, mounted on a solid frame and made entirely of stainless steel, has been designed to meet the most demanding maple syrup producers' performance requirements.
Powerful and compact, the horizontal configuration of the 10000 Series, as well as its all-stainless steel filter unit installed above the wash tank, greatly improves maintenance operations. For maximum efficiency, the 10000 Series allows up to 15 double membrane systems, for a total of 30 membranes. That's serious performance!
CONFIGURATIONS
• Up to 30 membranes in 15 double housings with 1.5 HP recirculation
• 1 feed pump with variable speed drive
• 2 high-pressure pumps with variable speed drive
• 1 to 3 booster pump(s) with variable speed drive
• Stainless steel sap filters with 6 cartridges for concentration
• Stainless steel sap filters with 6 cartridges for washing
AVAILABLE OPTIONS
• Stainless steel 10 gal flowmeter bracket
• Element, thermostat and water level control on wash tank
• Automation system
• Access to the machine at all times via the Internet
• Concentrate and filtrate flows, continuous Brix level, operating pressures, maple filtrate and concentrate water reservoir levels, operating mode
• Automatic start according to the level of the sap tank level.
• Remote control of operations: concentration, washing, rinsing, desugaring, Pep, Brix levels, start/stop, etc.
• Alarms classified by importance and transmitted by email in real time
• 12-inch easy to use and user-friendly touch screen
• Automatic purging to facilitate feed pump start-up
• Automatic washing
• Automatic quick action valves
• Integrated WiFi and VPN routers
• Unique feature that toggles from automatic to manual mode at the touch of a button, allowing instrument operation and reading (pressures, flow rates and temperature) without using the controller.
• Multi-tank management option (allows management of filling and concentration up to 6 tanks of sap, concentrate or filtrate)
Other models available
(Just click for more details)