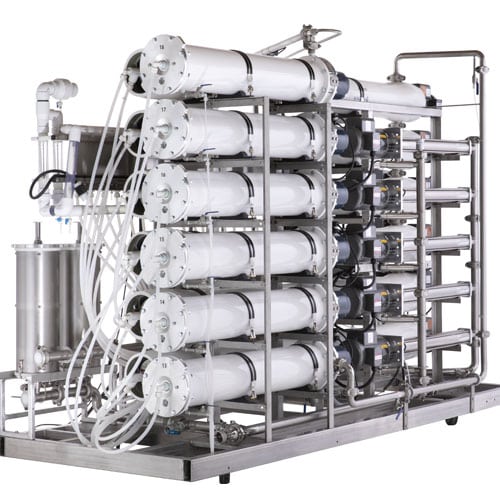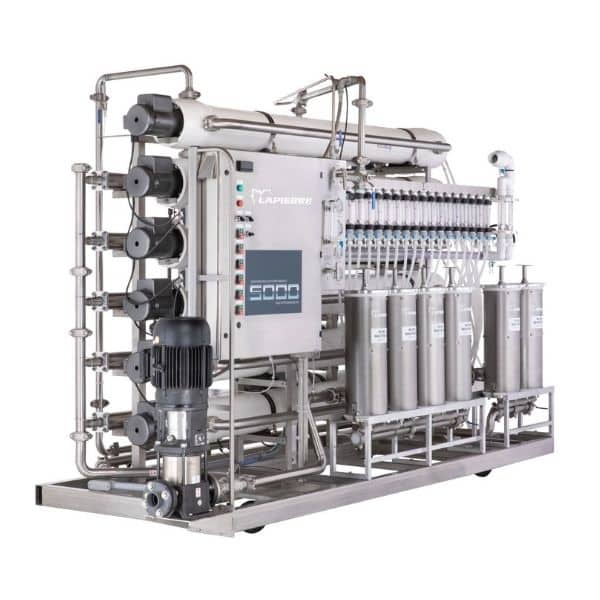 AN R.O. THAT KEEPS ITS PROMISES
The 5000 Series has proven itself to be the industry's highest performing equipment. A single pass for a concentration of 20 Brix or more makes it the system with the lowest power consumption rate in the industry. The 5000 Series is also built on a stainless steel frame and has a scalable design that can accommodate up to 12 membrane systems (6 single and 6 double for a total of 18 membranes) as well as all the pumps in a complementary configuration. High performance for days on end!
AVAILABLE OPTIONS 
• Stainless steel rack for flowmeter 10GPM (9, 12, 15 or 18 kit)
• Element, thermostat and water level control on wash tank
• Automation system
• 1 or 2 booster pump(s)
• Wash pump
5K automated systems
Lapierre R.O.'s have been continually evolving for more than 30 years. With the most complete product family in the industry, we can meet the needs of the smallest producers all the way up to industrial maple syrup operations.
We are proud to introduce our brand new Lapierre R.O. automation system, designed to improve and simplify maple syrup production. You can control it remotely from anywhere on the planet! This provides optimal performance and simplifies its operation while providing live production data via the dashboard.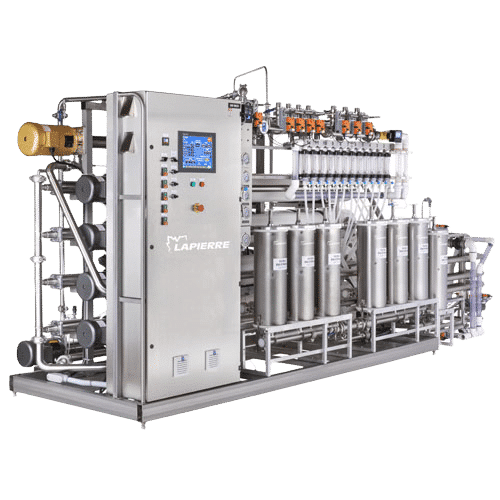 STANDARD CONFIGURATIONS 
UP TO 20° BRIX/ 25 BRIX WITH A BOOSTER PUMP
| | 15 HP / 9 MEMBRANES | 15 HP / 12 MEMBRANES | 20 HP / 15 MEMBRANES | 25 HP / 18 MEMBRANES |
| --- | --- | --- | --- | --- |
| FEED PUMP | Goulds 5 HP 2St | Goulds 5 HP 2St | Goulds 5 HP 2St | 7,5 HP+VARIATEUR |
| HIGH PRESSURE PUMP | 3x5 HP 20 GPM | 3x5 HP 20 GPM | 4x5 HP 20 GPM | 5x5 HP 20 GPM |
| SIMPLE BOX 3/4 HP | 3 | 4 | 5 | 6 |
| DOUBLE BOX 1 1/2 HP | 3 | 4 | 5 | 6 |
| WASH TANK | 3'x3' | 3'x3' | 3'x4' | 3'x4' |
| STAINLESS STEEL WATER FILTER WITH 6 CARTRIDGES FOR CONCENTRATION | 2 | 3 | 4 | 4 |
| STAINLESS STEEL WATER FILTER WITH 6 CARTRIDGES FOR WASHING | 1 | 1 | 1 | 1 |
Other models available 
(Just click for more details)