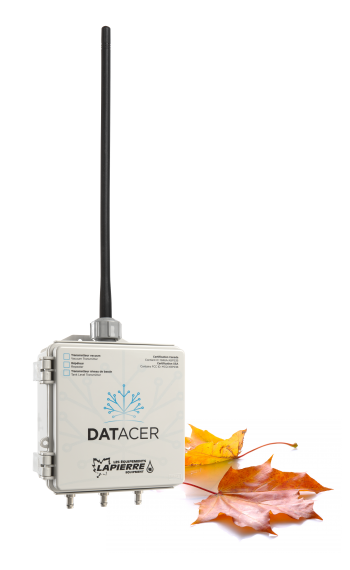 A CLEAR VISION OF MAPLE SUGARING 4.0
The DATACER team is dedicated to the development of maple sugaring information technologies.
Our mission is to communicate data on your sugar bush's main performance indicators locally or remotely, and in real time.
DATACER enables optimal management of your workforce and priorities through access to essential sugar bush information.
DETECTION AND


QUICK REACTION TIME
The DATACER system detects productivity losses in real time and allows you to respond quickly and precisely where needed.
Save time and energy.
Reduce the impact of seasonal stress.
Ensure a better quality of life.

No guessing; target the leak and fix it.

No more overflowing sap tanks.
Get a quick return on your investment.
MONITORING YOUR OPERATIONS 24/7
DATACER provides continuous monitoring of your sugar bush. The various types of sensors transmit data over radio waves to an autonomous controller that collects and
processes information 24/7.
Wherever you are, DATACER ONLINE gives you access to all your data on your fixed and mobile devices. This allows you to obtain
custom status reports and alerts at any time.
Monitoring leaks and vacuum losses
Monitoring and controlling pumping stations
Monitoring tank levels
Customized automation solutions
A PRECISEOVERVIEW
Quickly visualize the performance of your sap gathering system.
Vacuum
Temperature
A snapshot of the situation with a clear view of your lines.
As many stations-maps as you need.
UNLIMITED
REACH!
More than 5 km (3 miles) without a signal repeater
DATACER is a view from above spanning more than several kilometres/miles of your collection network to provide you with accurate, real-time data on vacuum level measurements at the ends of your mainlines.
This is to optimize the sap yield of the maple sap
collection network.
This type of information is vital and will have a decisive impact on the profitability of your sugar bush.
Each 1 inch of mercury gain is equal to 5% more maple sap harvested. It goes without saying that a 2'' Hg gain is 10% more syrup!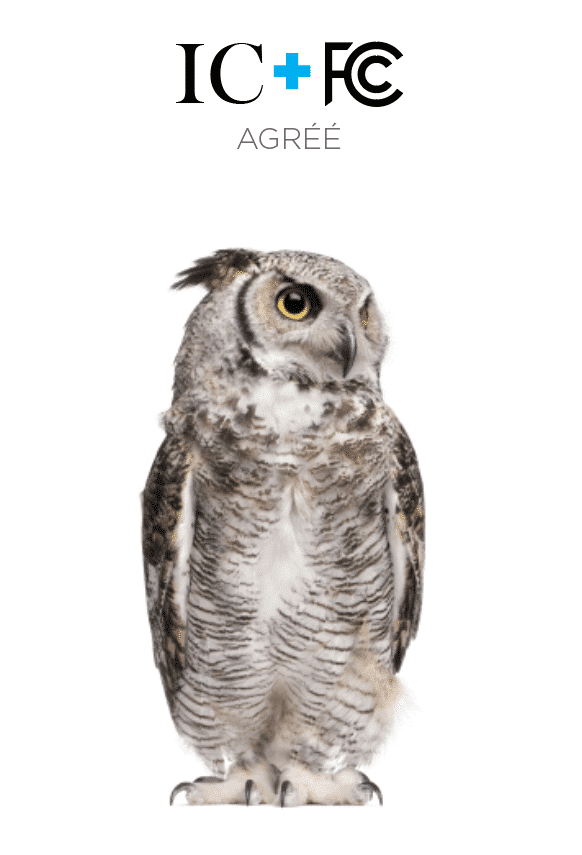 RELIABLE POWER
DATACER is undoubtedly the most powerful wireless monitoring and control system for maple sugaring. Its radio system, certified by Industry Canada and the Federal Communications Commission (FCC), ensures legal and safe use throughout Canada and the United States.
The exceptional quality of the selected components combined with an innovative transmitter configuration enables powerful communication over several kilometres. These will not interfere with neighbouring waves due to the choice of multiple available channels.
BENEFITS
Reduced number of radios minimizes electromagnetic noise and makes
data transmission more efficient.
Increased power for greater accuracy and reliability of transmitted data.
Optimized synchronization for energy efficiency and superior
communication in the forest.
AWARENESS OF
YOUR PUMPING STATIONS
Pumping stations are the nerve centers of any sugar bush. A rupture or an overflow very quickly results in a loss of yield and money. Customized alerts inform you, on your fixed or mobile devices, of the status of your tank levels, equipment failure or any other abnormality, which helps you to prevent losses.
Remote control of pumping stations
Automatic

start/stop of vacuum pump by temperatures

Drive (VFD) speed control
Start/stop sap pump
Indoor and outdoor temperature monitoring
Motorized valve for drainage or vacuum control

Pressure monitoring for R.O. feed or sap transfer pump

Tank level and vacuum sensor
HIGH-PRECISION
OUR
SENSORS
SENSORS AND TRANSDUCERS FOR: VACUUM, TEMPERATURE, TANK LEVEL, AND PRESSURE
Vacuum: triple, double and single
Each DATACER transmitter includes:
An innovative low-energy radio transmission system
A powerful 4.5-volt industrial-grade battery pack
Up to 3 sensors for 3 independent readings
Temperature sensor
Long-range omnidirectional antenna
Antenna options available according to needs
MULTIFUNCTIONAL COMBINATION SENSORS
New combined sensors (transmitters) for monitoring
several devices simultaneously.
Enables real-time measurement of vacuum level, tank levels, R.O. feed pressures (0 to 150 PSI) and much more.