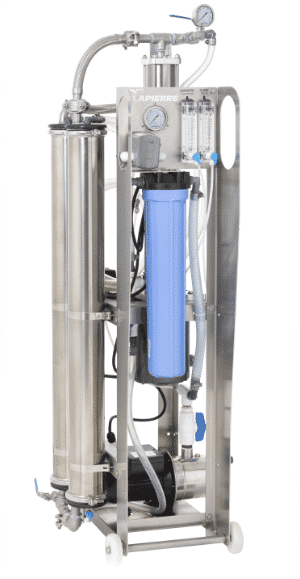 1000 SERIES REVERSE OSMOSIS MACHINE WITH 1 OR 2 VESSELS

Designed for traditional production and smaller operations, our 1000 series R.O's with 1 or 2 vessels offers guaranteed joy for maple syrup producers. If the R.O. reduces the boiling time and the amount of wood used to produce maple syrup, the 1000 series captivates with its remarkable ease of operation.
This range is PURE CONCENTRATED JOY for all its users.
Performance
1 Vessel
500 to 750 Taps
2 Vessels
1,000 to 1,500 Taps
Concentration
Up to 8 Brix in optimal conditions
Options
– Stainless steel wash tank
– Expansion kit (2nd vessel)
Warranty
Two year limited warranty on parts and labour.
ELECTRICAL




COMPONENTS
¾ hp feed pump
Integrated 2 hp high pressure and recirculation pump
Voltage: 240 volts; current: 16 amps
STAINLESS STEEL




COMPONENTS
Integrated frame and handles
4 in. (10.16 cm) vessel
Pump vessels
Piping
ERGONOMICS
Highly mobile
Frame on casters and integrated handles
Very compact, 24 W x 62 H x 22 D in. (60.96 x 157.48 x 55.88 cm)
Passes easily through doorways
A JOY TO USE
Water intake only 8 in. (20.32 cm) from the ground
Single valve operation
Low pressure and high temperature protection.
20 in. (50.8 cm) 5 micron pre-filter
Increased efficiency of the membrane system
Easy to drain
Two 5 GPM flow meters
Included: Polyethylene wash tank, membrane(s), storage vessel(s)
Other models available
(Just click for more details)