WITH ITS EXPANDABLE DESIGN, OUR UPDATED
RANGE OF R.O.'S WILL CONTINUALLY GIVE YOU MORE!
UPGRADE TO A HICHER STANDARD IN NO TIME
Nowadays, R.O.'s are essential pieces of equipment for maple syrup producers in a world-class economy. By removing more than 50% to 95% of the water contained in the sap, the use of an R.O. results in substantial savings in the fuel used for evaporation.
The scalable construction of Lapierre R.O.'s mounted on a stainless steel frame allows components such as pumps and housings to be upgraded to optimize the performance of your equipment to achieve the desired throughput.
Lapierre's high efficiency recirculation design allows your R.O. to operate at a high Brix level throughout the day, without washing or rinsing the membranes (under recommended conditions).
By optimizing the capacity of our high-pressure pumps and choosing the right motors, we are proud to offer you the most energy-efficient range of high-performance R.O.'s on the market.
No other brand of R.O. has such a high resale value on the market.
THE R.O. SPECIALIST
We are experts at customizing your R.O. to your specific needs. Our proven expertise in maple syrup production enables us to optimize the performance of equipment from other manufacturers.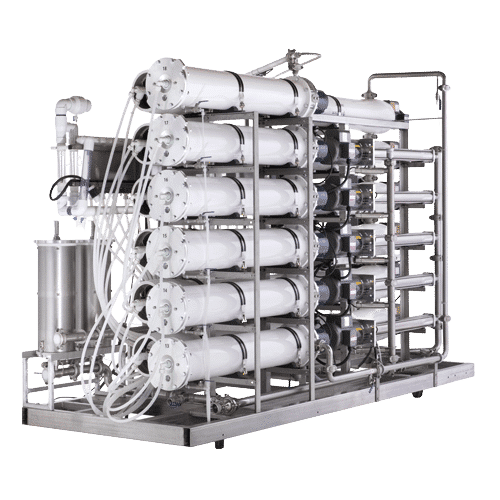 UNMATCHED RELIABILITY AND SIMPLICITY


Choice of 5 HP high pressure pumps of 10 or 20 GPM according to your needs
Increased performance through an easy addition of membranes, high pressure pump, booster pump, etc.
Wheeled system for effortless movement
INCLUDED WITH PURCHASE
• Stainless steel wash tank
• Membrane and storage canister
• 20" pre-filter and pre-filter protector
• Lubrificant for sealing joints
• Connection pipe
• Membrane cap and adaptor
• Membrane soap
THE LOWEST ENERGY CONSUMPTION ON THE MARKET
Standard: 230 V / 1 phase
Available: 600V / 3 phases / 208/ 230 3 phases
For example:
3000 Series 5 HP-2 membranes : 42 amps
5000 Series 12 membranes : 131 amps